Photo: Pixabay
Daily Tennis satellite TV schedule
The most prestigious tennis grand slam will be getting underway on 29 June and will be played through two weeks. The oldest tennis tournament in the world, played since 1877, is one of the most watched individual sports in the world.
Most of the countries have Wimbledon broadcast on free TV channels.
Since the Australian Open shifted to hardcourt in 1988, Wimbledon is the only major still played on grass. Wimbledon is widely considered as the most prestigious tennis tournament in the world.
Wimbledon Championships 2016 are scheduled to begin on 27 June 2016 and bring the best of tennis over next two weeks, culminating with single's finals.
The most succesful players in Wimbledon's history are Pete Sampras, Roger Federer, and William Renshaw with 7 titles and Martina Navratilova with nine.
Last year, Novak Djokovic won his third Wimbledon title in men's singles, defending his championship from 2014, and Serena Williams who won he sixth major title.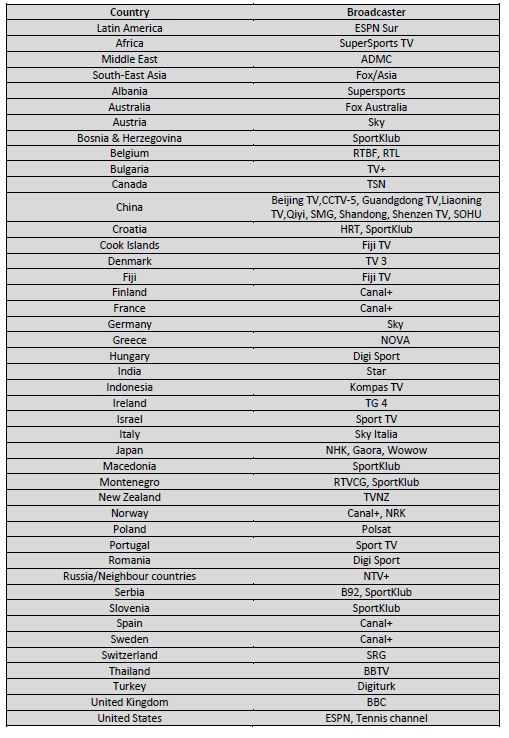 BBC - the Host broadcaster
The BBC is the host broadcaster and also the UK rights holder, acting for more than 40 other international networks.
Broadcasters are approached on a country-by-country basis with agreements designed to satisfy both cable and satellite, and terrestrial broadcasters.
It is important for the All England Club to carry Wimbledon to as large an audience as possible, which is why, the tournament is covered in most parts of the world on free-to-air television.
Current commentators working on coverage include British former players Andrew Castle, John Lloyd, Tim Henman, Greg Rusedski, Samantha Smith and Mark Petchey; legends such as John McEnroe, Tracy Austin, Boris Becker and Lindsay Davenport; and general sports commentators David Mercer, Barry Davies, Andrew Cotter and Nick Mullins. The coverage is presented by Sue Barker and highlights with John Inverdale. Really extraordinary TV line up by BBC.
If you are in England this summer you can watch Wimbledon at BBC Big Screens across the country with thousands of tennis fans. To locate your nearest screen follow the link.
SportEventz will provide full TV and sat list with satellite details including name, frequencies and encryption.
SportEventz Apps:
Conneting sports and TV in the best possible way