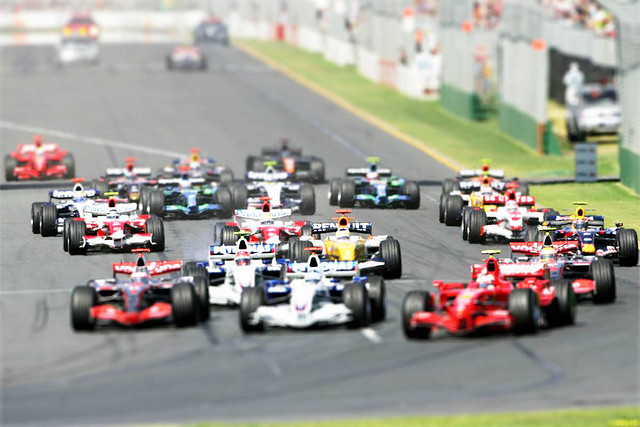 Motorsport satellite TV schedule
Formula One (F1) is the highest class of single-seat auto racing that is sanctioned by (FIA). The FIA Formula One World Championship has been the premier form of racing since the inaugural season in 1950.
Formula one had a total global television audience of 425 million people during the course of the 2014 season, what is a global drop of 5.6%. source
Despite a huge move of Formula TV rights on pay-TV, there are a lot of FTA (free-to-air) satellite broadcasters having Formula 1 live TV rights or even highlights.
Formula One UK TV rights
In 2011, Sky Sports signed a 7-year deal with the BBC to show live Formula 1 on Sky in the United Kingdom for the first time. The deal means Sky Sports will show every session of the season on their own F1 dedicated channel, Sky Sports F1.

The BBC will continue to broadcast live coverage of 10 selected races and these will also have "extended highlights" just few hours after.
The deal set that the British Grand Prix and the final race must be shown live on the BBC. The BBC Radio 5 Live coverage will be unaffected.
BBC is the only place to watch Formula 1 free-to-air on Astra 28.2° satellite position.
F1 remains on free-to-air TV in Germany

Formula 1 will remain on free-to-air television in Germany until at least the end of 2017 after broadcaster RTL penned a new two-year deal with the sport.
RTL has covered Formula 1 live in Germany since the middle of the 1991 season. RTL Germany is available via different satellites, but it is only free-to-air via Astra 19.2° satellite position.
Sky Sport Germany has pay-TV rights, and covers all Formula One season races on extra channel until 2017. In addition to live broadcasting rights via satellite and cable, the agreement encompasses internet, IPTV and mobile rights for Germany, Austria and Switzerland.
Formula One free satellite TV broadcasters
Some countries have formula one free on their terrestrial, cable or stream channels. In this table we have provided only satellite FTA (free-to-air) channels with broadcasting details.
Azerbeijan (Idman TV - All races)
Brazil (rede Globo - All races)
Germany (RTL - All races)
Italy (Rai - 9 racel live)
Slovenia (TV Slovenia - All races)
United Kingdom (BBC Sport - 10 races live)
Venezuela (TVes - All races)

Connecting sports and TV in the best possible way
Foto: "formula 1 (titl shift)" by Jose Maria Miñarro Vivanc Flickr under (CC BY 2.0)
Logos copyright
All Channels logos are of an organisation and are protected by copyright by their respective owners. SportEventz Blog makes no intention to infringe on any intellectual property or copyrights. Logos are provided for means of identification only.